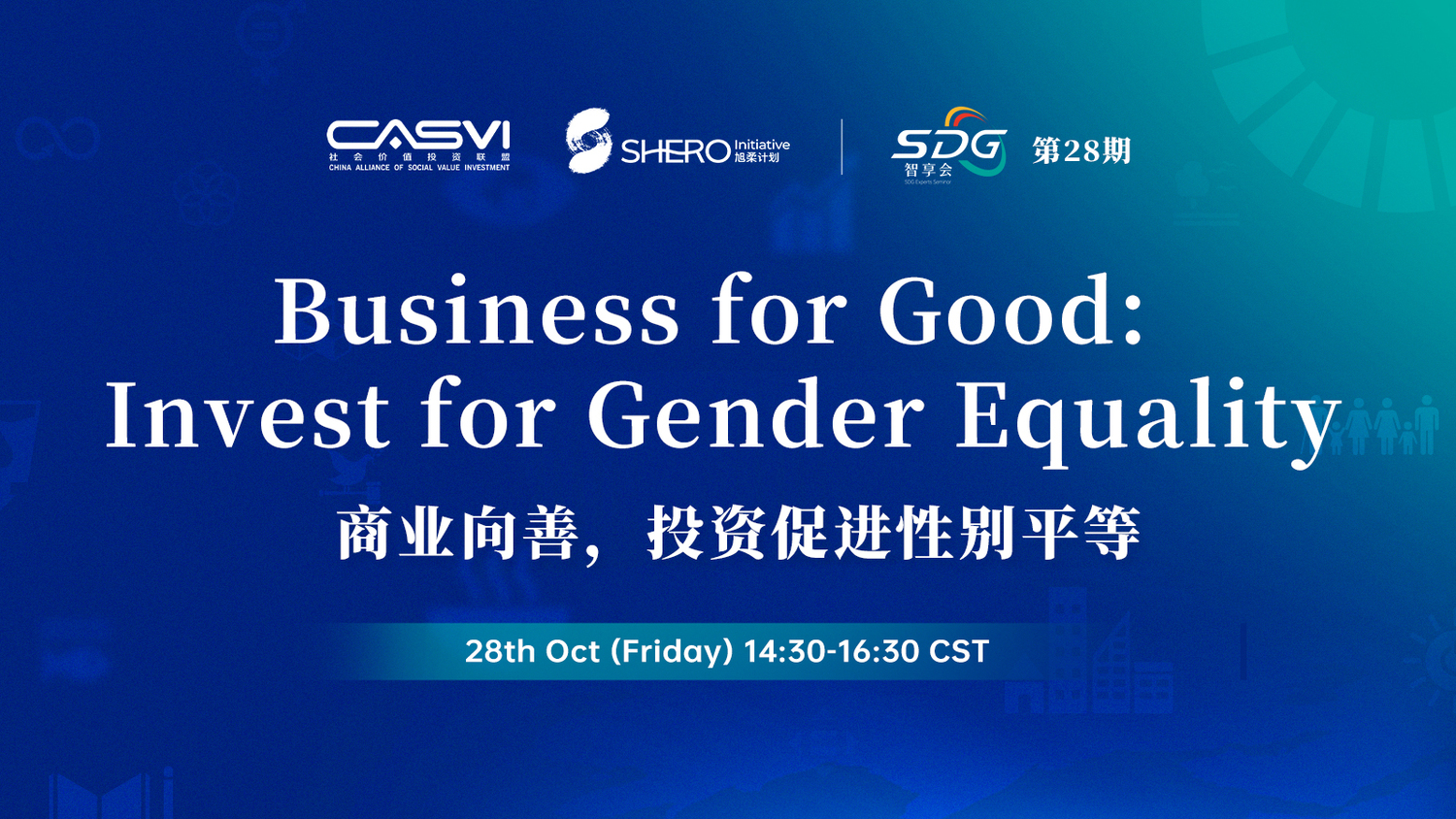 The 28th SDG Expert Seminar "Business for Good: Invest for Gender Equality" was held on October 28, 2022. Here is a recaption of key speeches given by Rebecca Ivey (Head of Platform and Impact, Greater China, World Economic Forum), Jessica Espinoza (CEO, 2X Collaborative) and Natalie Au (Senior Associate, Gender Platform at AVPN).
Tracking the Global Gender Gap from 2006-2022: Progress, Pandemics, and Pathways to Gender Parity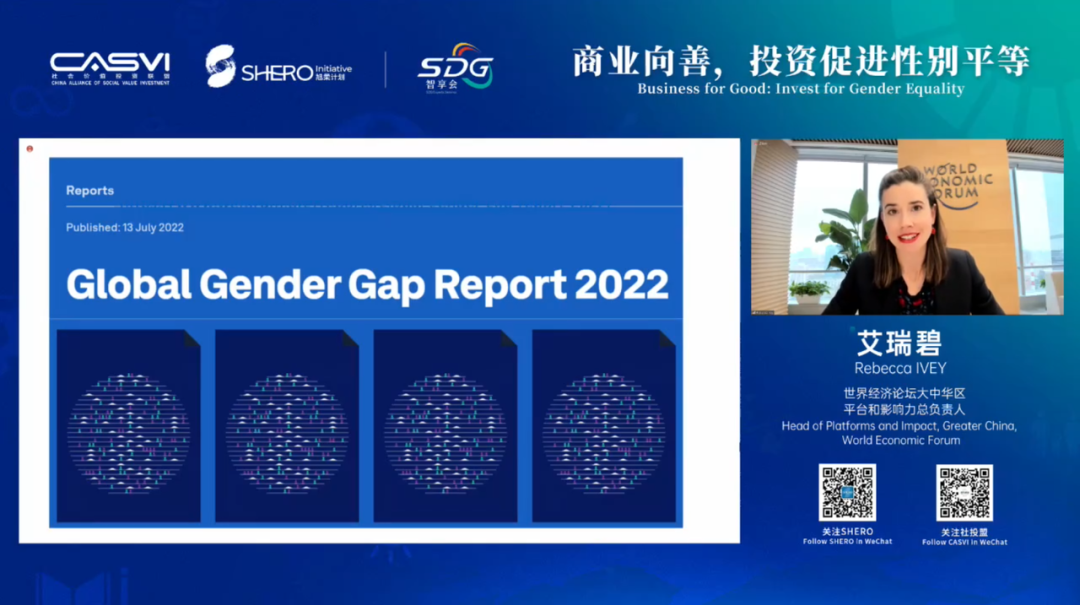 Firstly, Ms. Rebecca IVEY shared the key findings of the World Economic Forum's research on the Global Gender Gap Index. The World Economic Forum has analyzed gender-related data from over 100 countries annually since 2006, with 146 countries represented in the 2022 findings. The Global Gender Gap Index measures scores on a 0-100 scale, with 0 representing the most unequal conditions and 100 representing the achievement of full gender parity, with women and girls having equal opportunities as men and boys in education, health, economics and politics.
In 2022, the current gender gap has been closed by 68.1%. That means there is still a 31.9% gap to go. Ms. Rebecca IVEY stressed the critical importance of promoting equal opportunity, well-being and economic and human potential of all genders in society as a foundation for prosperous economies. According to Ms. Rebecca IVEY, while there has been noticeable progress, there is still a long way to go towards gender parity. The report estimates that at current rates of progress, it will still take about 132 years to reach gender parity across all countries, about 4 to 5 generations, by 2154. In the process, all of these generations will face gender inequality of varying degrees.
The Global Gender Gap Index is calculated based on four key dimensions: Health and Survival (i.e., life expectancy), Educational Attainment, Economic Participation and Opportunity (including labor force participation rate, wage equality for similar work, estimated earned income, etc.), and Political Empowerment, i.e., women's political representation. Over the past 16 years, countries' performances were widely dispersed across the four key dimensions: all performed satisfactorily in closing the Health and Survival gender gap by 95.8% and the Educational Attainment gender gap closed by 94.4%, while the Economic Participation and Opportunity closed by 60.3%, and Political Empowerment by 22%, registering the smallest improvement.
At this rate, it is expected to take about 59 years and 60 years for North America and Europe to reach full gender parity, respectively. East Asia and the Pacific will need 168 years to reach full parity, and South Asia will potentially require more than 200 years to reach full parity.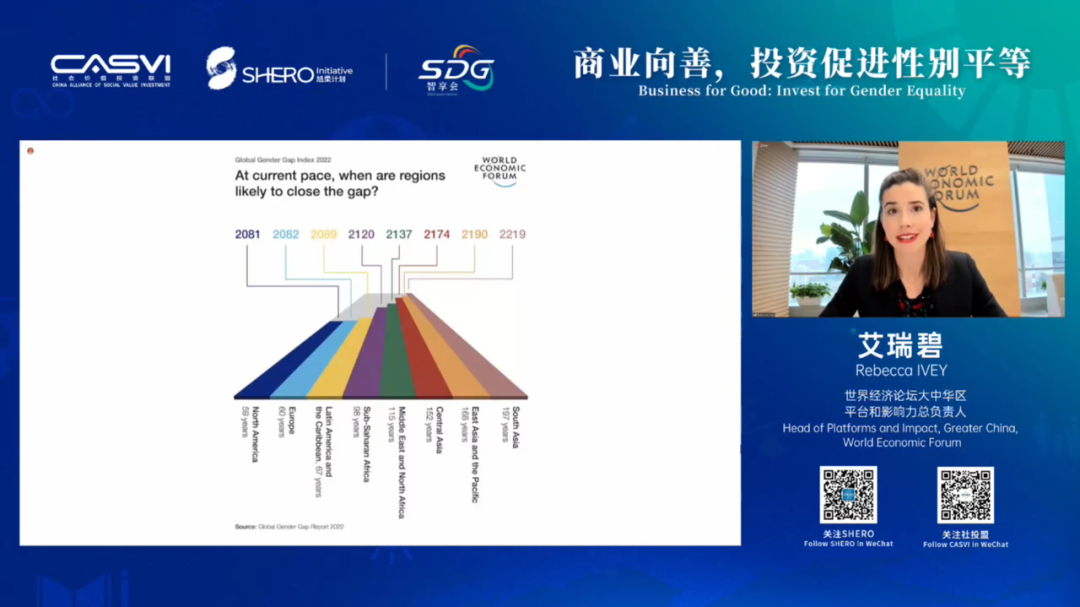 Ms. Rebecca IVEY said that the COVID-19 pandemic further impedes the global progress towards gender parity. Comparing the pre-2020 findings with the results from 2022, during the pandemic period, the years that it will take for the globe to close the gender gap has extended by another 30 years, from less than 100 years up to 132 years. In 2022, thegender parity in the labour force went down to 62%, thelowest level registered since the index was first compiled. There are two reasons for this: firstly, the widening gender gap in the labour market as certain sectors with high female participation were negatively affected by the pandemic; and secondly, the pressure on women to care for families and children during extended periods of school and childcare closures. Even before the pandemic, men's share of time in unpaid work as a proportion spent in total work was 19%, while for women this was 55%. Beyond the short-term impact, women who face unemployment or step out of the workforce will earn and accumulate wealth at lower levels than men over their lifetime.
Nevertheless, it's very gratifying to see that the share of women in senior leadership has been slowly rising, with the share rising to 36.9% in leading economies in 2022, an increase from 33.3% in 2016. Women leaders can be found across a variety of sectors, but attention should be paid to the gaps between different sectors.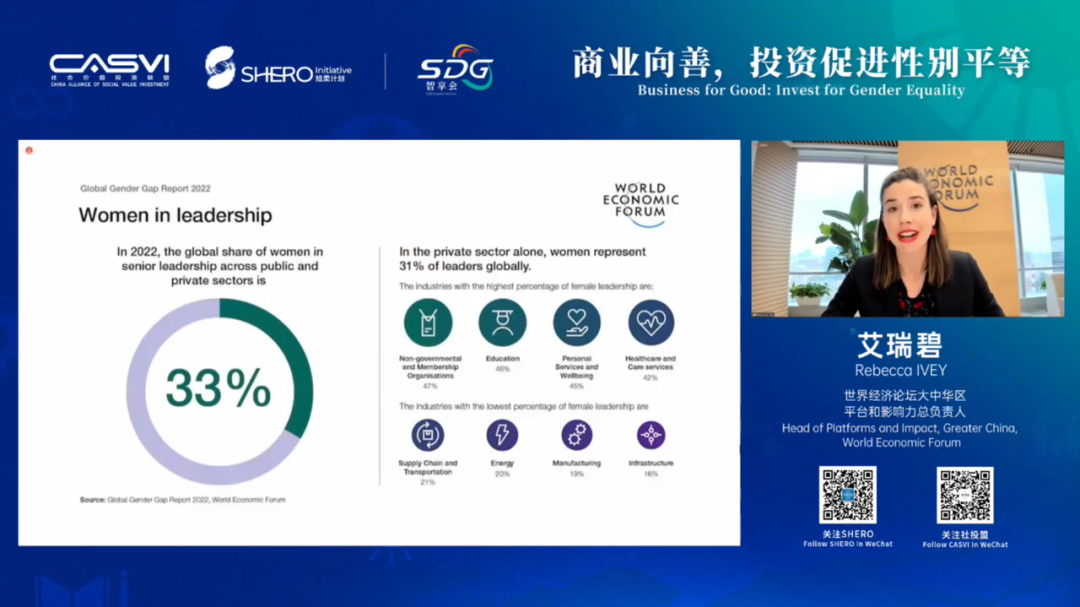 Ms. Rebecca IVEY called for individuals and organizations from all sectors of society to make efforts in the following areas for gender parity:
Firstly, support women's return to the workforce by enhancing social safety nets, not only for childcare, but also for elderly and family medical care.
Secondly, encourage companies to embed more gender equality concepts and measures in their governance, such as increasing the percentage of women in the total workforce and reducing the pay gap between female and male employees.
Thirdly, further bridge the gender gap in promising industries of the future and increase the share of women in high-growth sectors such as AI, information processing and data science.
Ms. Rebecca IVEY encouraged women and men from all walks of life to join hands and work together to further close the gender gap in the future.
Moving Capital with a Gender Lens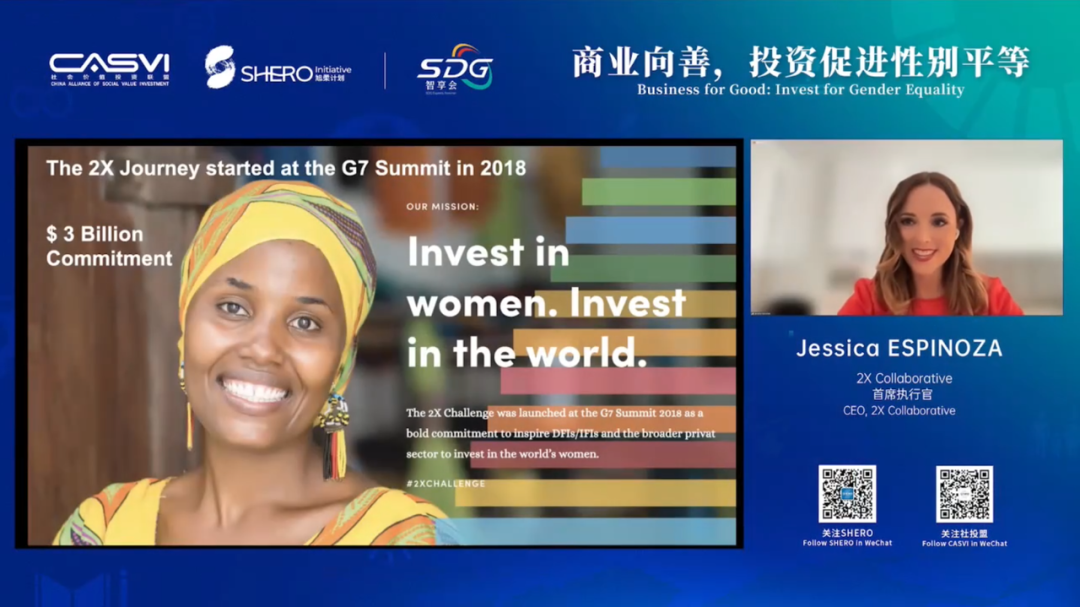 2X Collaborative specializes in gender lens investing (GLI) across four dimensions: entrepreneurship, leadership, female employment, and products and services for women, and develops the GLI criteria to actively partner with third-party investors, small investment firms and companies in GLI. In 2018, 2X Collaborative mobilized US$11.4 billion capital in the world's women, surpassing the commitment target set at its inception. 2X Collaborative is the global industry body to promote GLI.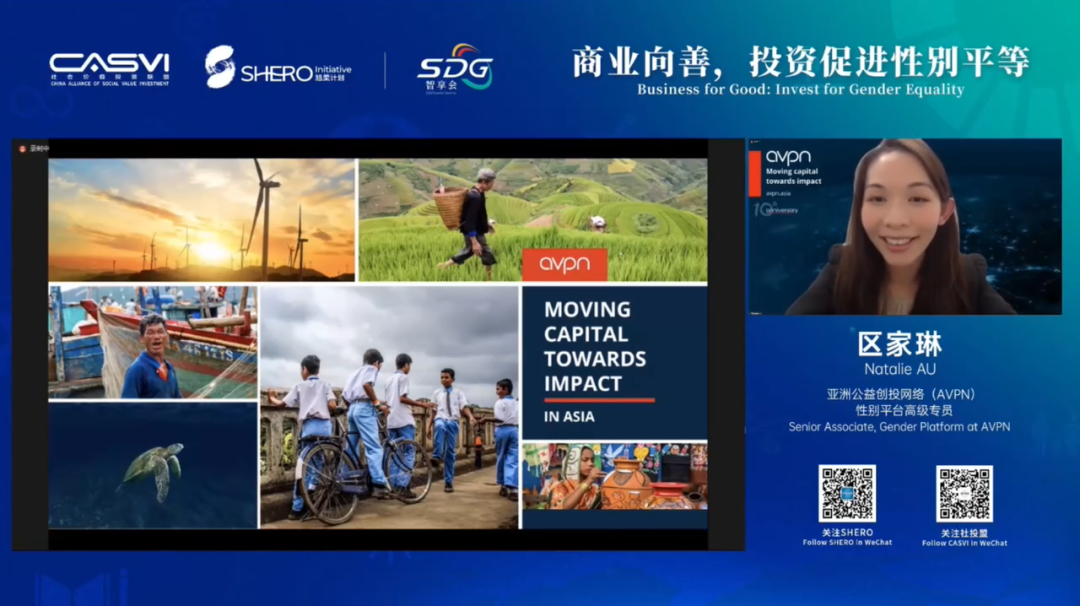 With over 600 members covering 33 markets, AVPN is Asia's largest social investor network moving capital towards impact in Asia. The AVPN Gender Platform engages with the over 300 member organizations who have declared gender equality as one of the priorities in their work. Understanding that advancing gender equality will accelerate progress towards all other Sustainable Development Goals, AVPN brings together stakeholders across the continuum of capital - from philanthropy to impact investing and blended finance, to socially responsible investing - to collaborate on solutions. Gender Lens Investing is one of the types of financing used by AVPN members, and AVPN endeavors to build the market and ecosystem for GLI with partners and member organizations.
Gender Lens Investing for Gender Parity
Jessica ESPINOZA, CEO of 2X Collaborative, and Natalie AU, Senior Associate of Gender Platform at AVPN, had a dialogue on "Gender Lens Investing for Gender Parity."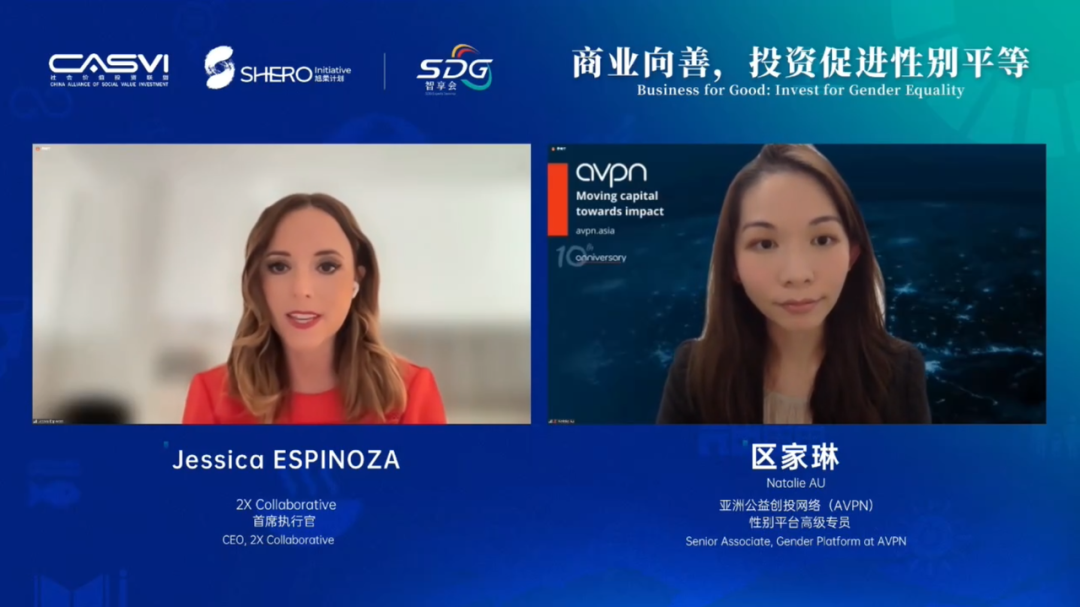 Ms. Jessica ESPINOZA shared two cases of GLI. One was about the founder of a Mongolia-based garment company. That female founder mainly employs single mothers or disabled women and invests the capitals received in building new factories and daycare centers to help women become better and more engaged in their work, reduce turnover, improve their performance and lower absenteeism. The other is about a female entrepreneur who invests in energy, education, health, and social and educational financing, focusing on improving the benefits for low-income women and promoting gender equity throughout all stages of the investment cycle.
Ms. Natalie AU also shared the case of one of AVPN's partners in Vietnam. Recognizing that the venture capital model may not fit the needs of all women entrepreneurs, that Vietnamese fund designs a fit for purpose debt program for women entrepreneurs to satisfy their local financing needs and offer customized financing services to the local community.
When it comes to the challenges encountered in GLI, Ms. Jessica ESPINOZA said that the biggest challenge for her is how to maximize the use of capitals. As mentioned before, a lot of financing programs have proven successful in Asia, encouraging and empowering many women entrepreneurs. But we still face challenges in searching sources of funding, especially from the perspective of institutional investors, who still prefer to invest in established entrepreneurs or managers. Therefore, we need to consider how to find the right investees for corresponding funding in GLI, seek different types of financing solutions, and offer the corresponding funding to female start-up entrepreneurs in need so as to empower women.
Bringing in more institutional capital can further advance the ecosystem, but some institutions such as pension funds are relatively risk-averse and cannot invest outside of explicit mandates, said Ms. Natalie AU. However, many larger investment institutions are now increasingly aware of the need to focus more on gender equality and diversity issues, and are also exploring new gender-responsive investment models by taking a more holistic approach to incorporate GLI into their business portfolios.
Finally, the two speakers shared their expectations and perspectives on GLI.
They hoped that institutional investors will be more inclined to invest in female startup entrepreneurs, and that more flexible financing support and tools will be developed to better empower women. They also expressed their expectation that besides traditional investors, Angel investors, venture capitalists, pension funds, etc., other institutional investors and diversified investors will join in the undertaking of GLI and empowering women entrepreneurs.