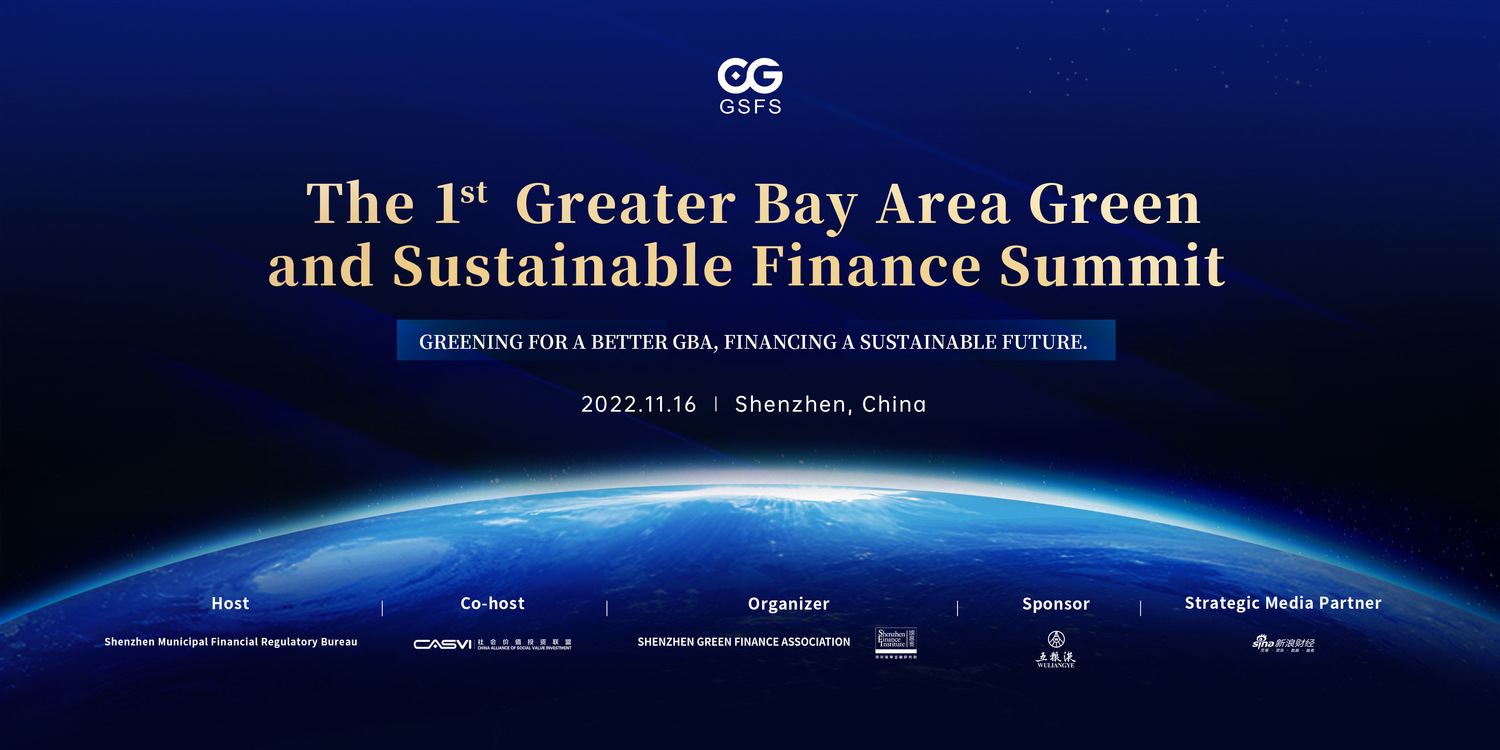 The "3060" Dual Carbon Goals has become a hot topic nationwide since China announced its goal to reach carbon peaking by 2030 and carbon neutrality by 2060 at the 75th session of the UN General Assembly in 2020. To advance the Dual Carbon Goals and help develop a sustainable finance center as well as a sustainable finance ecosystem, the Shenzhen Municipal Financial Regulatory Bureau and China Alliance of Social Value Investment (CASVI) will co-host the first Greater Bay Area Green and Sustainable Finance Summit (GSFS) in Shenzhen on November 16.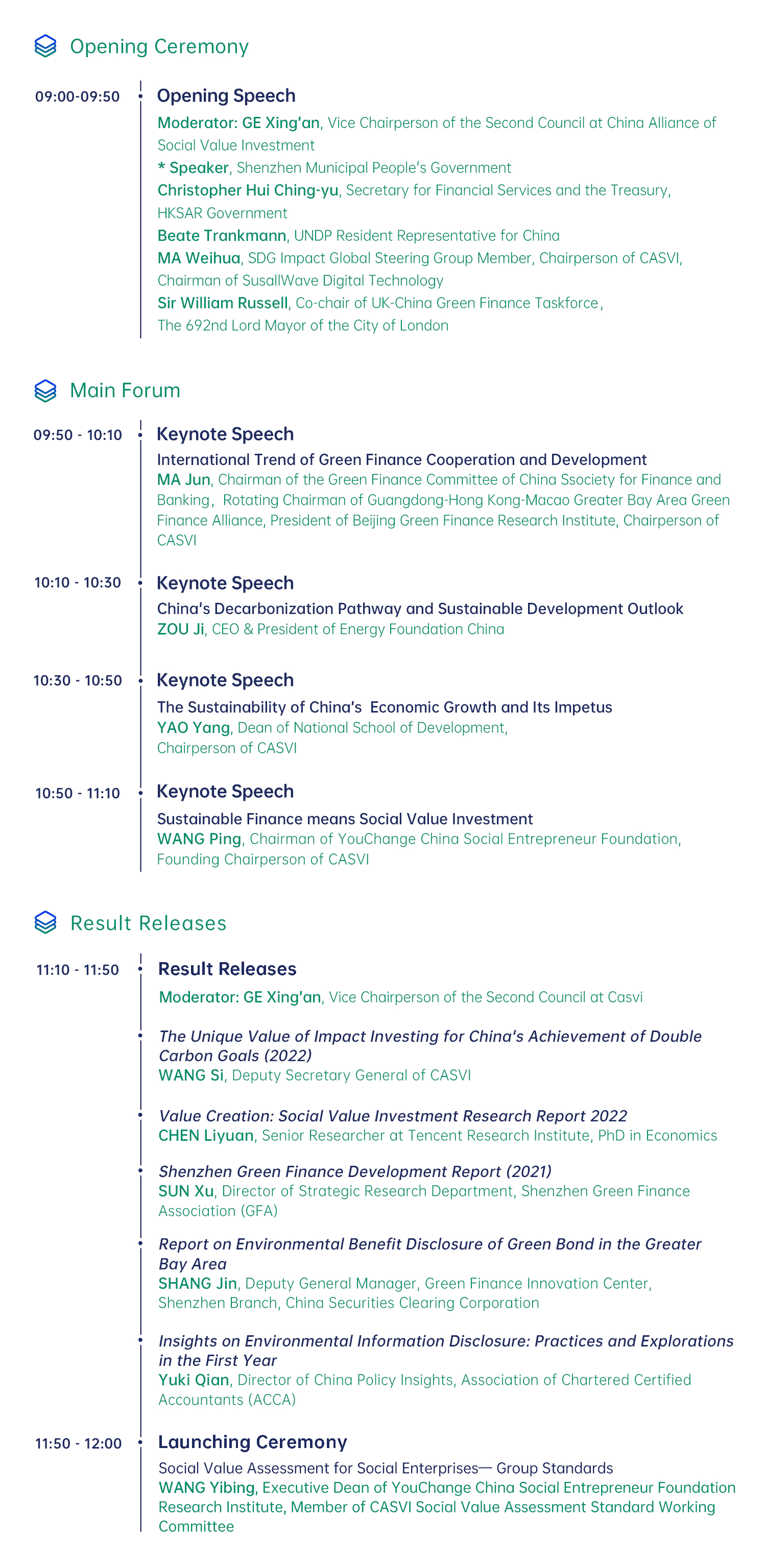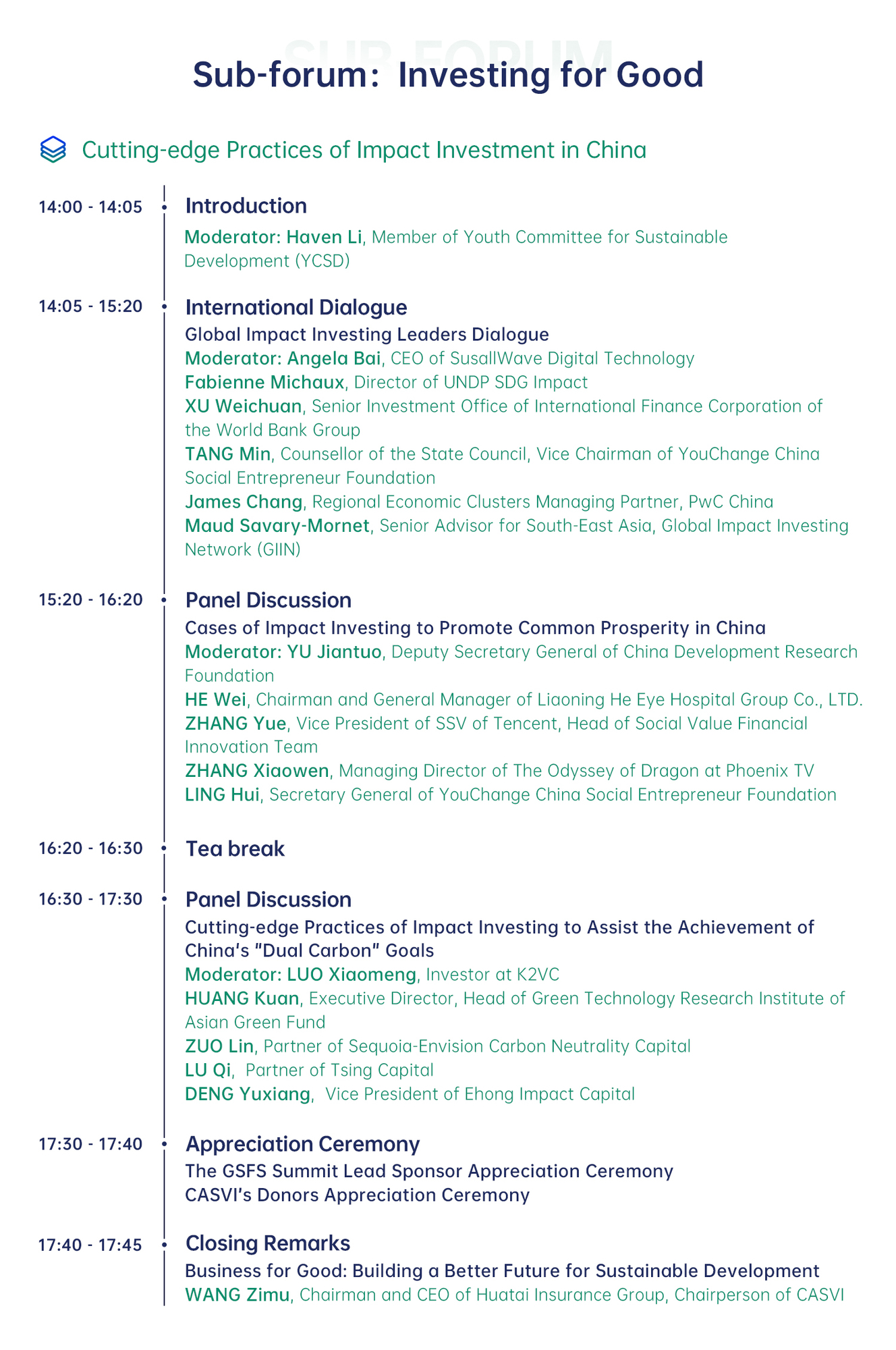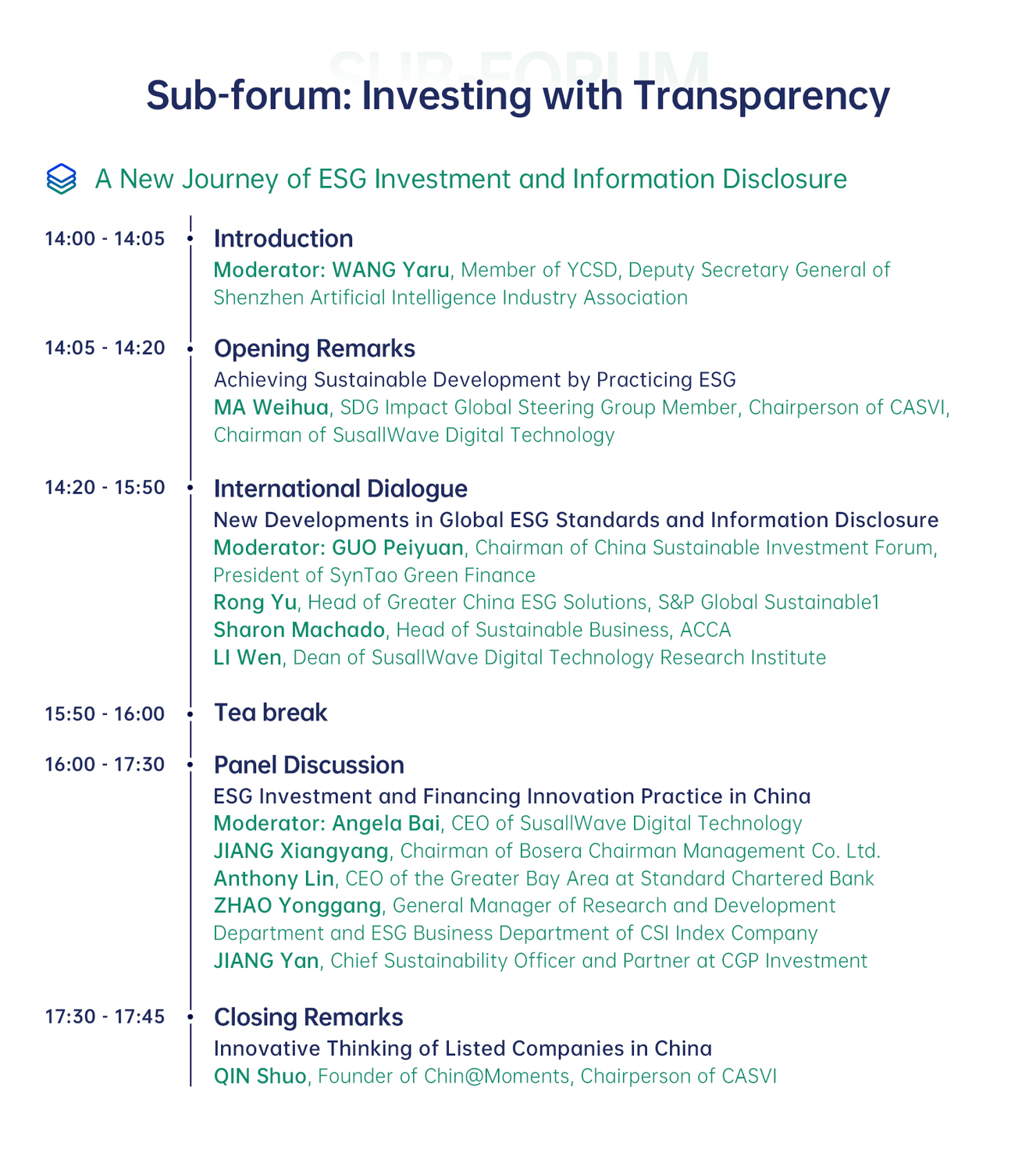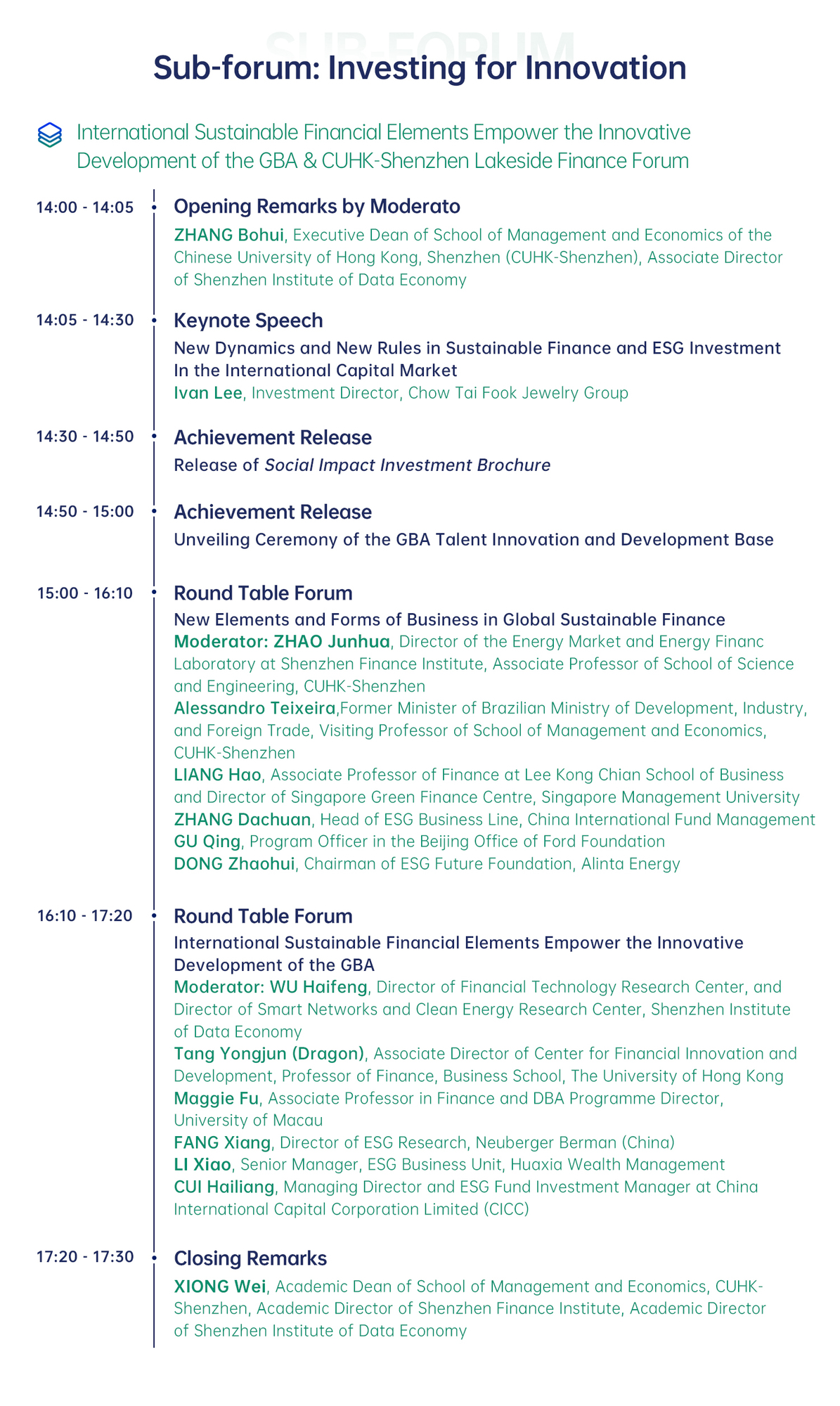 ABOUT THE SUMMIT
The summit, with the theme of "Greening for a Better GBA, Financing for a Sustainable Future," features a main forum and four parallel sub-forums.
GSFS invites government representatives, industry leaders, corporate executives, experts and scholars in sustainable finance at home and abroad. Speakers include Beate Trankmann, UNDP Resident Representative for China; Director of the Hong Kong Financial Services Development Council, Christopher Hui Ching-yu, Executive Director of the Hong Kong Financial Services Development Council; Ma Weihua, Chairperson of CASVI; Sir William Russell, Co-chair of UK-China Green Finance Taskforce and Former Lord Mayor of City of London; Ma Jun, Chairman of China GFC; Yao Yang, Dean of Peking University National School of Development; Wang Ping, Chairman of China Social Entrepreneur Foundation; He Jie, Director of Shenzhen Municipal Financial Regulatory Bureau; Wang Zimu, Chairman and CEO of Huatai Insurance Group; Qin Shuo, Founder of Chin@Moments; Fabienne Michaux, Director of UNDP SDG Impact; Maud Savary-Mornet, Senior Advisor for South-East Asia, GIIN; Rong Yu, Head of Greater China ESG Solutions, S&P Global Sustainable1; Sharon Machado, Head of Sustainable Business, ACCA. The attendees will discuss the future of global sustainable development by focusing on sustainable finance topics, including the Greater Bay Area's new achievements in green finance, China's cutting-edge practices of impact investing, a new journey for ESG investing and information disclosure, and overseas sustainable finance elements empowering the innovative development of the Greater Bay Area.
Aiming to "connect the world with the GBA as the core," the summit will bring together the global community of green and sustainable finance to boost Shenzhen's green and sustainable finance. The event is also expected to help the city build a national reform and innovation pilot zone for green finance, a national center for climate investing and financing, and a global hub for sustainable finance. Researches by CASVI, the SGFA, the SFI and the Tencent Research Institute will be released at the summit, including The Value of Impacting Investing in China's Delivery of the Dual Carbon Goals (2022), Shenzhen Green Finance Development Report (2021), Research Report on Environmental Benefits Disclosure of Green Bonds in the Guangdong-Hong Kong-Macao Greater Bay Area, Environmental Disclosure Insights: Practice and Exploration in the First Year and a carbon neutrality roadmap for financial institutions, 2022 China Impact Investing Report, and Value Creation: Social Value Investing Research Report 2022.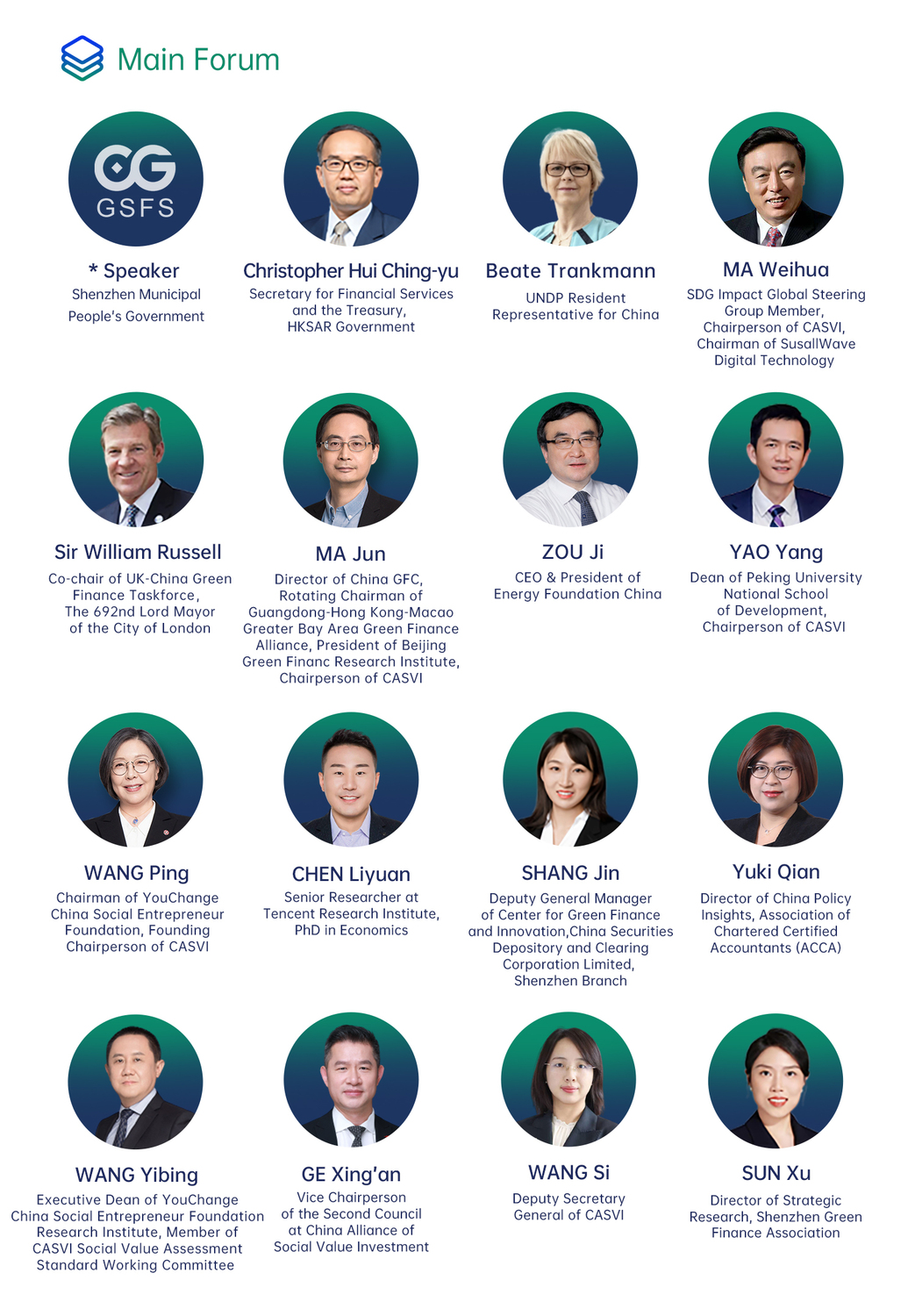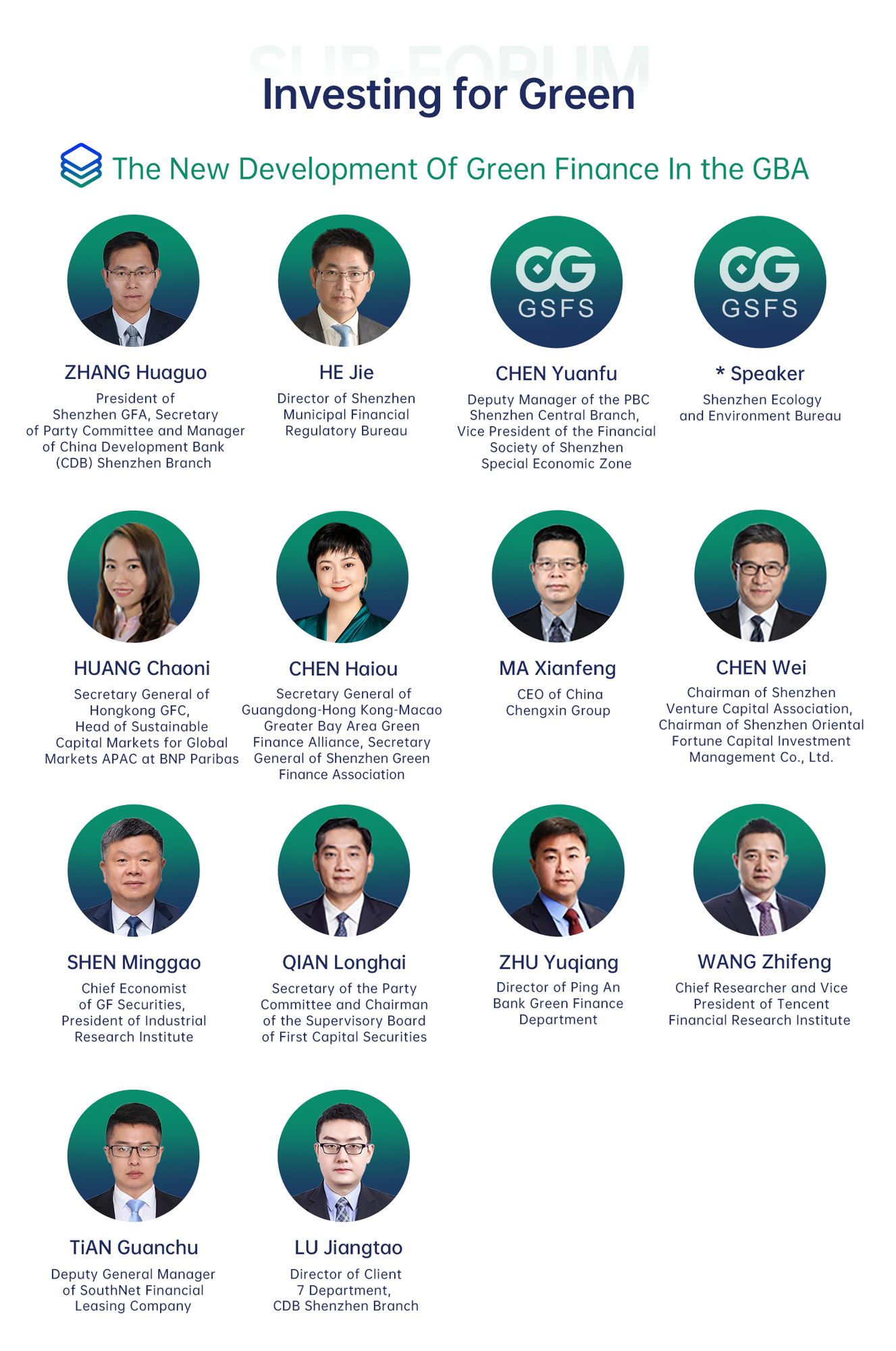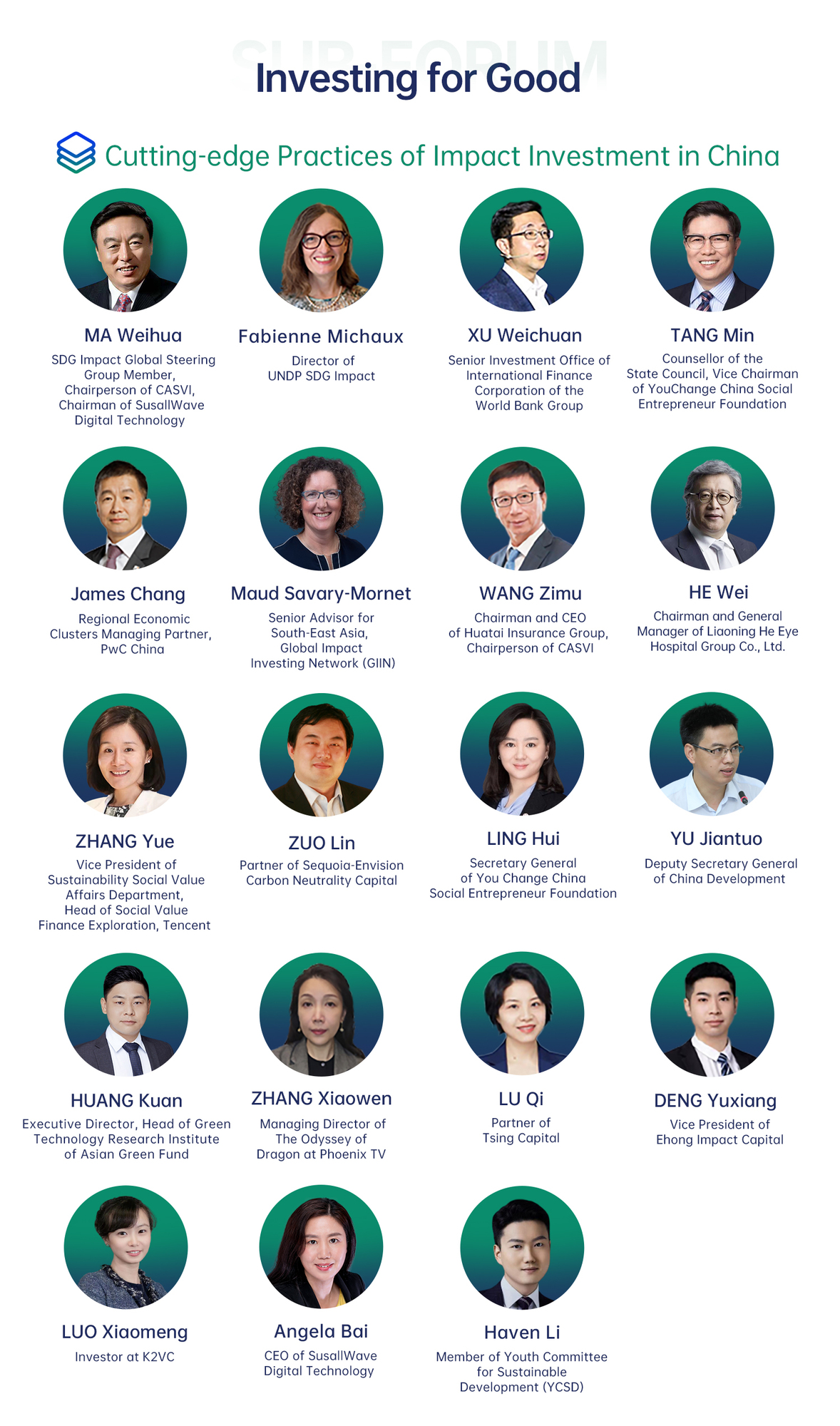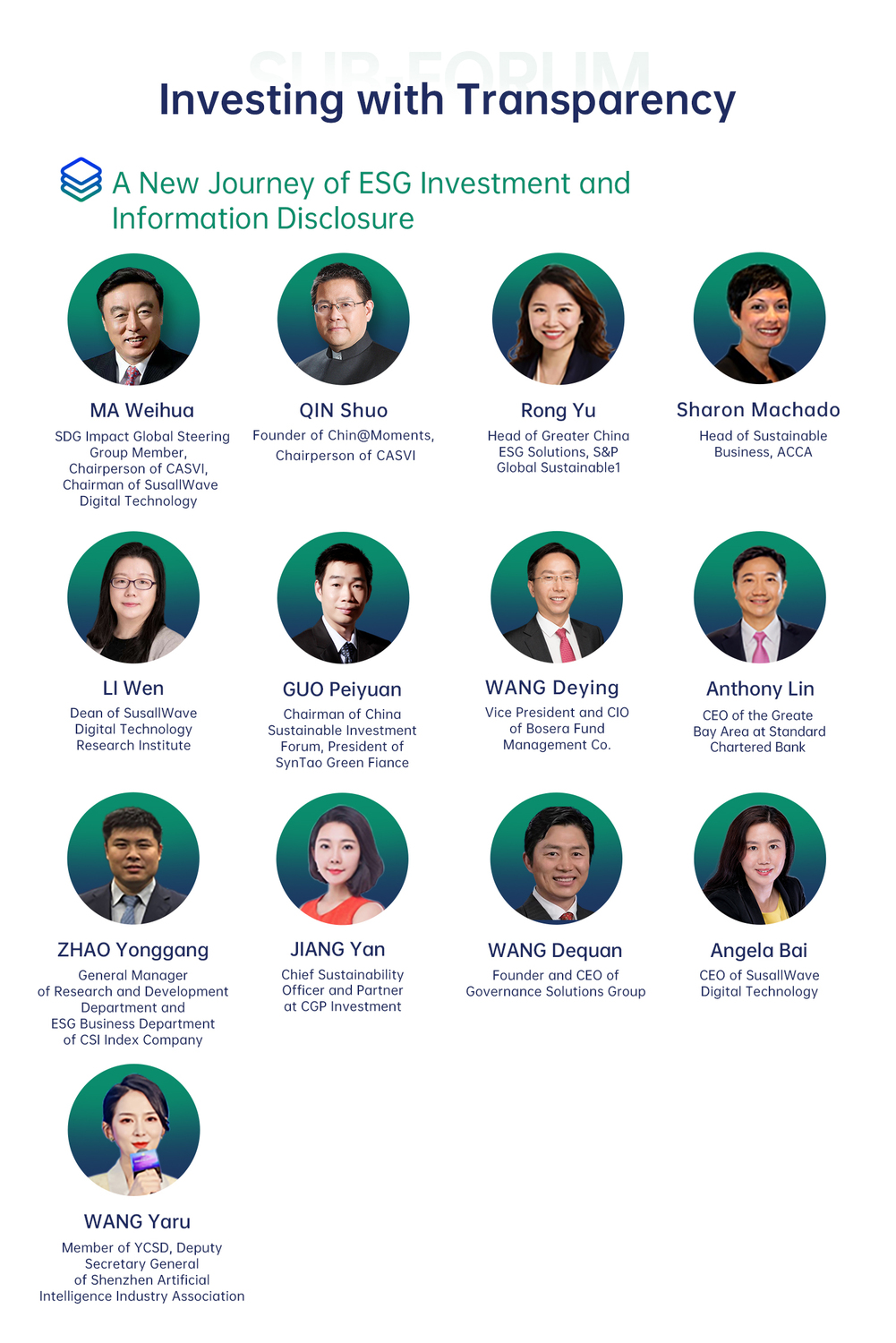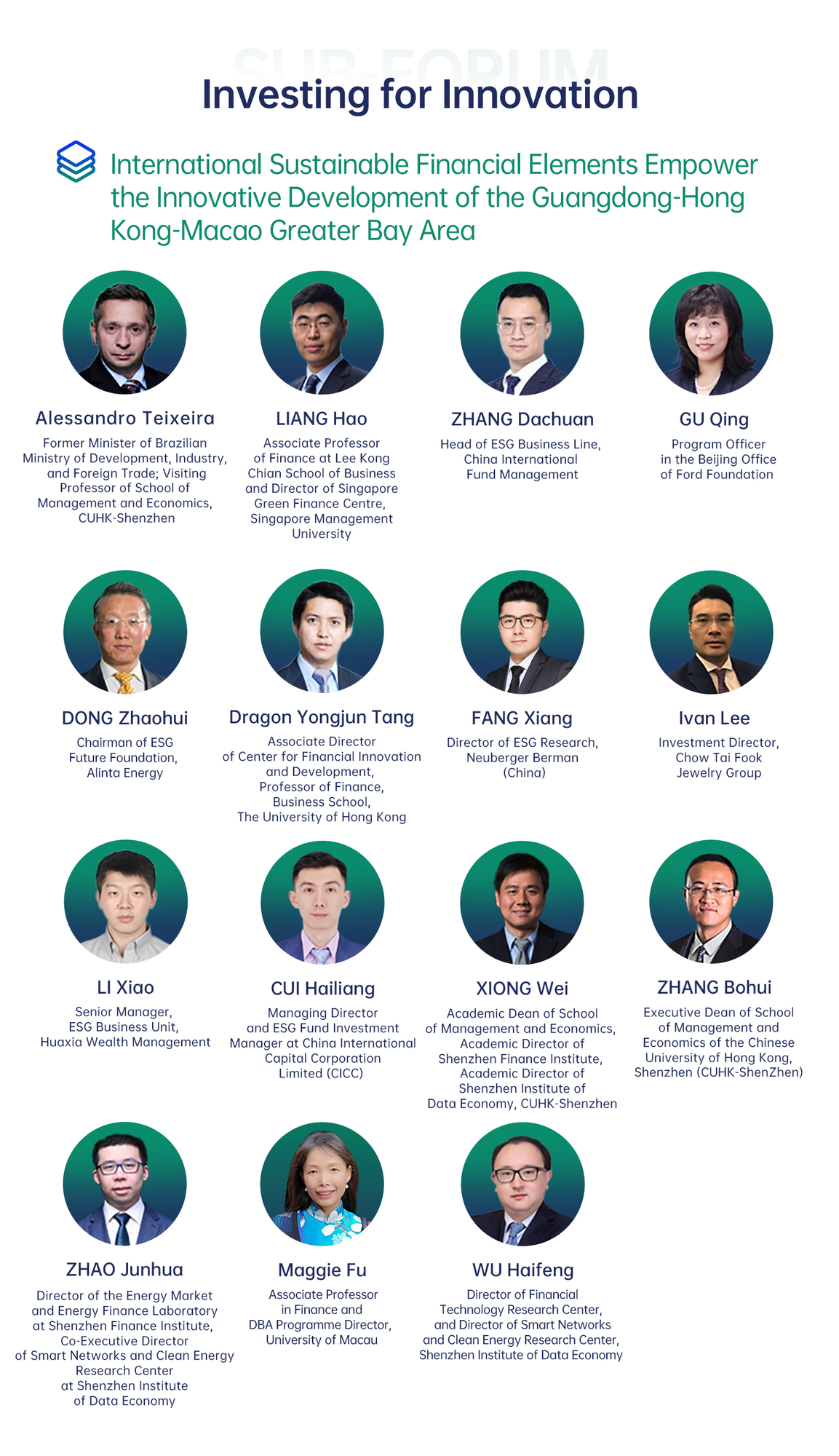 At a time when major changes unseen in a century are inspiring profound self-reflection and self-revolution, I hope this summit can draw together visionary pioneers in sustainable finance to talk through new issues and opportunities worldwide, bring up new ideas, and get to new cooperation. Based on this, we can work together to promote a global ecosystem for sustainable finance and jointly do well and do good!
——Ma Weihua, Chairperson of CASVI
BUSNIESS INQUIRY
Ellen Yip
ellen.yip@casvi.org