The 11th ESG Investing Frontiers
Sustainable Finance Solutions and Supporting Ecosystem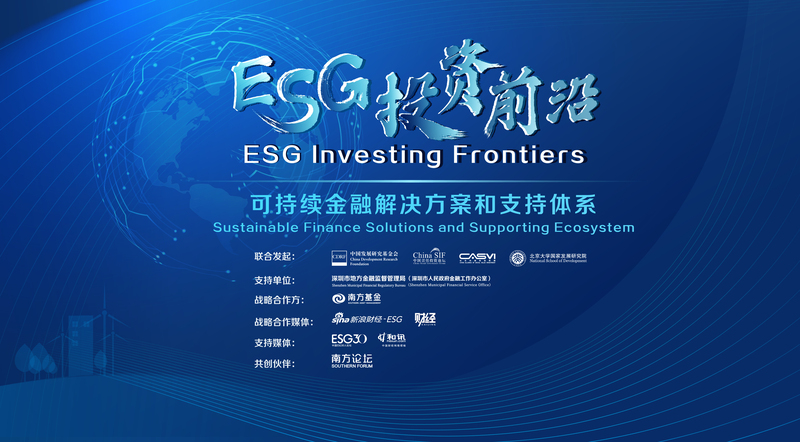 On July 30th, 2021, the 11th ESG Investing Frontiers, "Sustainable Finance Solutions and Supporting Ecosystem," was held in Beijing. The forum was chaired by Jiantuo Yu, Deputy Secretary General of China Development Research Foundation. Michael Salvatiko, head of ESG business development inAsia Pacific region of S&P Global, Zhong Wu, Vice Chairman and Director General of The Finance Center for SouthSouth Cooperation, and Peiyuan Guo, Managing Director of China SIFgave relevant keynote speeches. They jointly explored the future development and positive impact of economies in transition. Chenghui Zhang, former Deputy Director of Development Research Center of the State Council of China, Xiang Zhang, Secretary General of China Chamber of Commerce, and representatives of HSBC China, Industrial Bank, Beijing Financial Holding Group, City of London Corporation and other relevant institutions attended the meeting.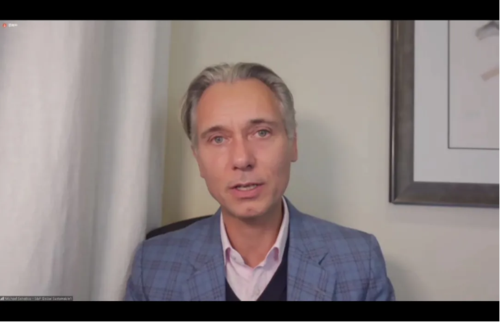 Michael Salvatico, head of ESG business development in Asia Pacific region of S&P Global, introduced the development and innovation of S&P's ESGsolutions. He shared three main trends of global green finance development, and discussed the importance and possible challenges of promoting enterprise ESG information disclosure.
Salvatico pointed out that there are three sustainable development trends in the world:
First, standardization: a set of standard system framework that can measure ESG to better provide investors with valuable information.
Second, transparency: Transparent data and clear disclosure scope that can make ESG data more flexibly used in research and investment decision-making process.
Third, the increased importance of climate change. The world has paid close attention to the financial risks brought by climate change, including transformational risks and physical risks. These issues are also regarded as one of the most important ESG issues of financial institutions and enterprises.
Salvatico introduced that S&P's ESG analysis tools help to lead financial institutions to identify environmental and climate risks across asset classes worldwide. At present, more than $27 trillion of assets have used S&P climate data for asset management and tracking.
Salvatico also focused on sharing the importance and challenges of the enterprise's sustainability report. He pointed out that from 2011 to 2019, the proportion of ESG disclosure reports of the largest 500 enterprises in the United States increased from about 20 percent to 90 percent. Similarly, in China, the proportion of listed companies that disclose ESG information has increased significantly in recent years. This reflects the high attention of large enterprises and relevant regulators about ESG standardization and transparency. Although some companies have concerns about the disclosure of ESG information, including the risk of sharing competitive or sensitive information, the disclosure costs involved, and the market's response to poor performance indicators. He said that higher levels of regulation and disclosure guidelines could promote fairer competition and alleviate these concerns. If an enterprise does not disclose ESG information, its ESG performance will also be evaluated will not benefit from the positive impact of sustainability reporting. He hopes that in the future, the government and enterprises can work together to develop a more impeccable framework for collecting, disclosing and interpreting ESG information indicators.
On how China and other developing countries can promote low-carbon decarbonization transformation, Salvatico said that to achieve the goal of controlling climate change at 1.5 degrees in the Paris Agreementit is necessary to halve emissions by 2030. If enterprises fail to meet the public policy intervention is higher carbon prices. Research shows that by 2050, the global average carbon price may be as high as 180 US dollars per ton. More and more people began to pay attention to measuring carbon price and analyzing the potential carbon cost of enterprise operation. S&P's ESG tools are also helping companies analyze and disclose these data. In addition, the government and the private sector need to accelerate investment in renewable energy. At the same time, they also need to pay attention to the transformation and transition of the coal-fired power plant industry and industry practitioners, which also requires multi-level planning by the government and companies.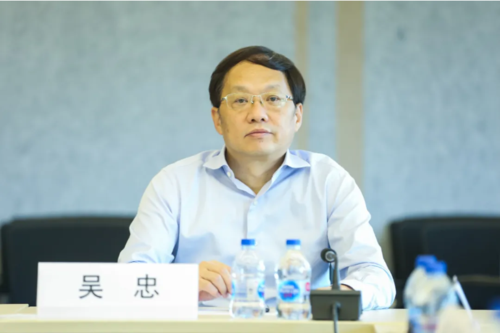 Dr. Zhong Wu, Vice Chairman and Director General of The Finance Center for South-South Cooperation, believes that impact investment is the central issue of financial framework for sustainable development. He added that the driving force of other types of investments comes from investees, but the driving force for impact investment is investors themselves. The investor has independent consciousness and internal motivation during the process. If capital can obtain profits while also paying attention to social benefits, environmental protection, and inequalities, the society will naturally develop in a sustainable way.
At present, there are still many challenges of impact investment development. Firstly, the awareness of influence investment is still weak in China. There is a lack of standard evaluation, formulated government policies, and a system. Besides, the infrastructure construction is still in its early stage. Secondly, from investors' perspective, impact investment needs to be promoted by some professional institutions and structural arrangements. Thirdly, impactful projects usually require a longer return cycle, and investors need to be more patient.
Still, Dr. Wu has an optimistic view about the future of impact investment in China because of China's 3060 carbon neutrality commitment. He believes that these policy objectives will eventually benefit impact investment. With the improvement of China's international influence and the development of international collaboration, the structure of foreign investment will be optimized and upgraded accordingly. Moreover, if international cooperation can create more impact investment opportunities, China can enhance its international reputation and better assume international responsibilities during the process.
After the "3060" goal being put forward, how can impact investment play a role in the financial market and what is the prospect in the carbon market? In this regard, Dr. Wu mentioned several core standards for the application of impact investment in the financial market. One of which is quantification. The "3060" goal would undoubtedly push the government to formulate relevant restrictive assessment indicators, and these assessment indicators will also have corresponding impact evaluation. These quantitative systems will, in turn, promote the development of impact investment.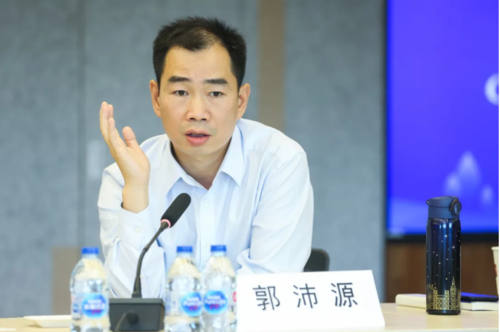 Dr. Peiyuan Guo, Managing Director of China SIF and Syntao Green Finance, said that policies, products and data are indispensable from sustainable financial solutions and supporting system. He made a specific exposition by taking carbon emission data and its application as an example.
According to statistics, less than 5 percent of A-share listed enterprises have disclosed their carbon emissions. In order to make up for the market vacancy, Syntao Green Finance has developed a carbon neutralization database (panda database) on the basis of many years of ESG data experience. The Panda database is similar to the TCFD framework. On the one hand, it analyzes the climate risks faced by enterprises in the financial environment from an external perspective, namely physical risk and transition risk. But on the other hand, it analyzes the climate risk management and carbon emission of enterprises from an internal perspective. Risk management takes into account governance, strategy and other management indicators of the enterprise. The carbon emissions follow the GHG accounting rules and the input-output principle to calculate the carbon footprint indicators such as carbon emissions and carbon intensity of the enterprise.
After obtaining carbon emission data, we can explore its application in sustainable financial products in the next step. Syntao Green Finance explored that among all the stocks from CSI 300 market, enterprises in industries substantially affected by climate change have significant advantages inlow-carbon projects. But the investment portfolio composed of relatively low-carbon enterprises in high-carbon industries can produce better returns. Dr. Guo said that in the future, carbon emission data would be applied in more green finance scenarios.
As for the speed of China's low-carbon transformation, Dr. Guo believes that the low-carbon transformation should seize the time. Under the 3060 goal, different transformation schemes should be designed for different regions based on their industrial structures and degrees of economic development. In addition, he also suggested that financial institutions should not only learn from international experience, but also actively promote the innovation of green financial products that take account of China's national conditions and policies.
"ESG Investing Frontiers" is jointly initiated by China Development Research Foundation (CDRF), China SIF, CASVI and The National School of Development at Peking
University (NSD). Under the guidance of Local Financial Regulatory Bureau of Shenzhen Municipality as the guiding unit under, the forum looks at the global ESG investment
trends and ideas. Based on domestic ESG investment practice and exploration, and the forum aims to promote the development of ESG investment in China through monthly
themed speeches, roundtable discussions, and industrial exchanges.