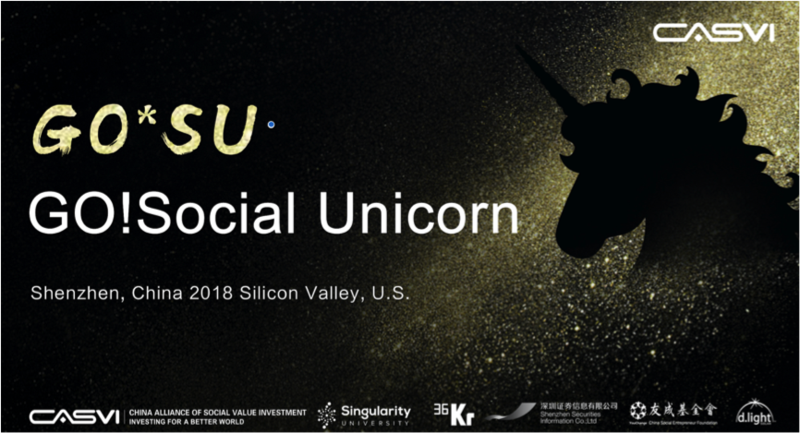 Are you looking for a chance to change millions of people's lives?
Are you seeking for social value investors and entrepreneur community who share the value of achieving both economic and social good?
Do you desire to explore the latest tech that may bring social transformation around the world?
Join us!
We will help you achieve all of them in 【GO*SU】
GO*SU Program is world's first exponential growth nurturing project specially focused on future social unicorns – enterprises founded within 10 years that do well and do good with over 1 million RMB valuation and high growth rate.
This program provides you a unique opportunity to rocket your company's economic performance and to optimize your social impact.
【GO*SU】offers you
7 Benefits
+
1 Challenge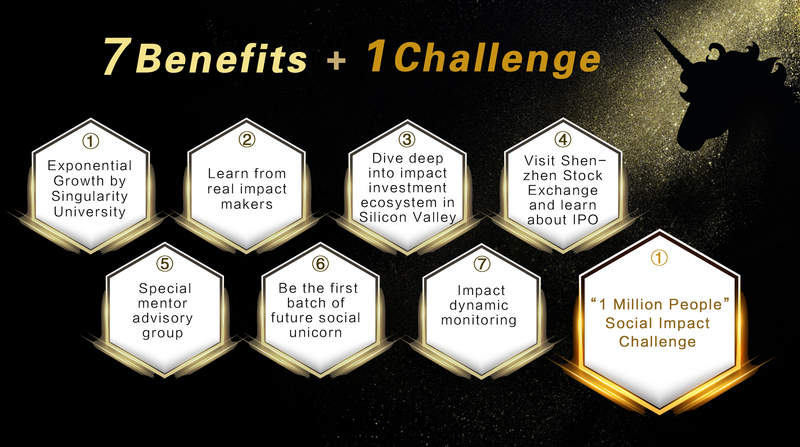 Benefit 1 Exponential Growth by Singularity University

We believe that the biggest business opportunity is covered by the biggest social challenge around the world. Therefore, we will take you to Singularity University based in NASA, Silicon Valley and create a sharing platform where you may get inspired by the smartest mind in the world.
Singularity University, co-founded by Peter Diamandis and Ray Kurzweil, is a global community using exponential technologies to tackle the world's biggest challenges. Their learning and innovation platform empowers individuals and organizations with the mindset , skillset , and network to build breakthrough solutions that leverage emerging technologies like artificial intelligence, robotics, and digital biology.
Specially,we customized courses together with Singularity University for you!
In 【GO*SU】program, you are going to take courses including
Exponential Organizations& Disruption

We're living in the age of exponential technologies: Computing, AI, machine learning,robotics and self­-driving cars etc . The sudden surge of their performance empowers individuals and new players, but threatens to disrupt incumbent businesses. The only way to respond is to re­organize for the exponential age, embracing experimentation, autonomy, bottoms-­up innovation, networked business models, and an empowered, inspired workforce. Here's what leaders can do tochange their organizations and to become disruptors rather than be the disrupted.
Entrepreneurship Accelerated – Crack the Silicon Valley Code,
Do More With Less and Reach Escape Velocity
Silicon Valley has a well-­earned reputation for being the world's most innovative startup ecosystem. To peel back the curtains and explore the secrets powering the leading tech companies, you will leave with an unprecedented practical insight into Silicon Valley's startup culture.
Global Grand Challenges
A new understanding and set of tools are required to stay ahead of this exponential curve, through which we will solve some of the greatest problems facing humanity today. Once you tackle these challenges, where are the opportunities to both run a successful business and positively impact lives?
Exponential Data:Thriving and Surviving in the Age of "Big Data"
Exponentially advancing trends in machine intelligence, big compute, data automation, sensors and the Internet of Things are changing every aspect of the opportunities forhow we leverage, manage and execute data strategy for our companies today. Fromdata liquidity to centricity, late binding, backcasting and virtuous cycles,the foundations for building data strategies in companies today are more important than ever for surviving in this age of exponentials.
AI and Machine Learning
Artificial intelligence is not just a future possibility, it is here now, and in use all around us. This talk covers what AI is, current research results in AI, AI applications and businesses, future directions of the technology, and its business, technical, and ethical implications.
Benefit 2 Learn from real impact makers

Professor Chao WANG
Executive Vice-President of Institute for Philanthropy Tsinghua University

Sam Goldman
President of d.light
Benefit 3 Dive deep into impact investment ecosystem in Silicon Valley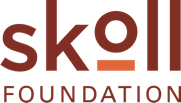 (tbc)
Benefit 4 Visit Shenzhen Stock Exchange and Learn about IPO
With growing trend that Unicorn Companies plan to get listed in A-share market, experts from Shenzhen Stock Exchange will share the way to successful IPO for Social Unicorns.
Benefit 5 Special Mentor Advisory Group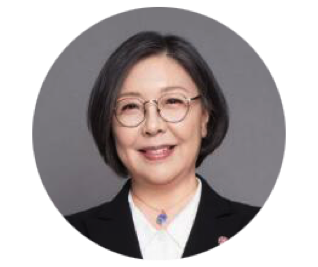 Ping WANG
Founderand Chairperson of YouChange Foundation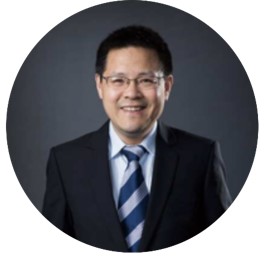 Shuo QIN
Independent Finance Observer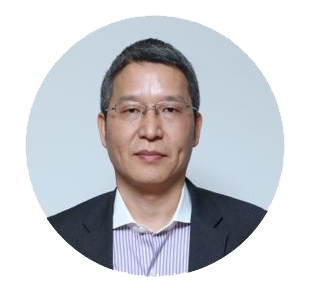 Siming ZHU
Senior Consultant of Nomura Research Institute
(tbc)
Benefit 6 Be the first batch of future social unicorn
You will
ž Enter global social entrepreneur community
ž Be collected into global social unicorn pool
ž Talk directly with top impact investors
ž Be free to join social unicorn meetups in major cities in China
ž Be followed and exposed by China@vator
Benefit 7 Impact Dynamic Monitoring
You will receive a professional Future Social Unicorn Social Value Assessment from CASVI and have a chance to enter dynamic assessment plan
to track every step of your growth
1 Challenge
"1 Million People" Social Impact Challenge
If applicant's core business/product
has successfully influenced 1 million population
or reached 10 million applications by April,2019,
the challenge is regarded as successful.
Successful Challenger will win:
✓ Opportunity to showcase at international stage
✓ One-to-one session with social value investor
✓Free Pass to 2019【GO*SU】Project
✓ One-year free membership of CASVI
Taking 7 benefits and 1 million social impact challenge,
you are on the exponential way towards SOCIAL UNICORN!
【GO*SU】Timeline
June Online
1 Million People Social Impact Challenge Open
A Peak of Singularity University
July 7-8 Offline Shenzhen
Future Social Unicorn First Offline Meeting (China)
Mentor's Practical Experience Sharing
Social Unicorn Masked Ball
July 17-24 Offline Silicon Valley
Future Social Unicorn Second Offline Meeting (SiliconValley)
Immersive Learning Camp at Singularity University
Dive Deep into Social Impact Ecosystem in Silicon Valley
Aug-Dec Offline Major Cities in China

National Sharing Meetups
Lit up China's major cities with strong unicorn community
April, 2019 Offline Unveil Impact Challenge Winner
1 Million People Social Impact Awards
Social Unicorn Annual Assessment
Program Fee
Program Fee: 159,000 RMB(Application will be closed at May 15)
Early Birds: 92,000 RMB (Apply before April20)
1 million Social Impact Challengers: 99,000 RMB
(Please click the application link for more special deals)
Special Scholarships Offer
If you are from 【GO*SU】Strategic Partner's enterprise database,
apply before May 1 and participate in Social Impact Challenge,
you will have a chance to win full scholarship to support your program fee.
(Partnership Opportunity is still open.)
Note:
Program Fee Covers:
Singularity University Course fee
Institution Site Visit in Silicon Valley
Transportation, Accommodation, Meal, Party and Translation in Silicon Valley
Transportation, Accommodation, Meal, Visiting in Shenzhen
Personal Insurance in Shenzhen and Silicon Valley
Entire Project Agenda Participation
Not included:
*Transportation ticket to/back from Shenzhen
*Flight ticket to/back from U.S. and Visa application fee
*One day self-tour in Silicon Valley
*Transportation, accommodation and meal's cost to sharing meetups
【Qualification】
Seatsfor Participants: 40
Group Composition: Social Entrepreneurs, Investors, Foundation Officials, Scholars and Journalist etc.
【Requirements】
We would love to look for the enterprises that:
1. Highly acknowledge doing well and doing good and have certain social impact in the industry
2. Has valuation over 100 million and is not listed yet
3. Core executive membershas full commitment to the schedule and good English L/S/R/W skills
4. Focus on:
【Six Fields】Green Agriculture, Intelligent Manufacturing, Inclusive Finance, Green Energy, Health & Pension, Education Equality
【Two Main Focuses】Poverty Alleviation, Sustainable Development
5. Apply innovative technology into core products/services
6. Established after 2008 (included 2008)
How to join us
1. DDL for Special Price and Grants

Early Bird Price will be closed at 24:00, April 20
Special Scholarship Application will be closed at 24:00, May 1 please do submit your application if you have passed the assessment
2. Application Procedure
Application Submission – Screening and Assessment – Admission Offer – Fee Payment – Official Admission
3. Application Fee:199 RMB
Scan to Apply Now!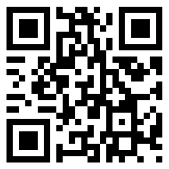 Limited seats
Rolling Basis
Apply Today!
Any questions for the program please feel free to contact us!
Tel: 13764554596(WeChat:casvi0505)
Hotline:0755-8653 8253
Partnerships still Open…
For Project Cooperation, please contact Yijing Wang
Tel: +86 18858177028(w/ WeChat ID)
For Media Cooperation, please contact Ellen Yip
Tel: +86 15013378294(w/ WeChat ID)