As a major ESG issue, climate change is attracting wide attention. The BIS calls climate-change-related risks "green swan" risks, which could trigger systemic financial risks. China will fully address climate change in the "14th Five-Year Plan", and to promote the realization of 2030 carbon peak, 2060 carbon neutral as the goal of improving the green financial system. Yi Gang, governor of the People's Bank of China (PBOC), also recently proposed to fully incorporate climate change into the policy framework, encourage financial institutions to actively respond to climate challenges and deepen international cooperation.
The event invited
Sean Kidney
, the CEO and co-founder of
Climate Bonds Initiative
(CBI);
David Carlin
from
UNEP-FI
;
Tianyin Sun
, director of Environment and Climate Risk Analysis at Green Finance Development of
Tsinghua PBCSF
;
Weikang Wang
, director of Energy Transition Project of
World Wide Fund for Nature (China)
and
Rui Zhang
, director of
SynTao Green Finance (STGF)
Sean Kidney | The green bond market has achieved considerable development in China during the past few years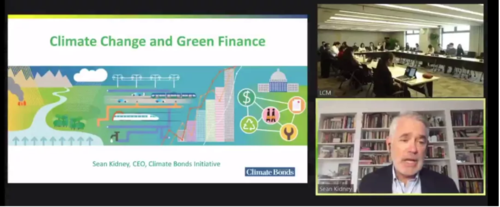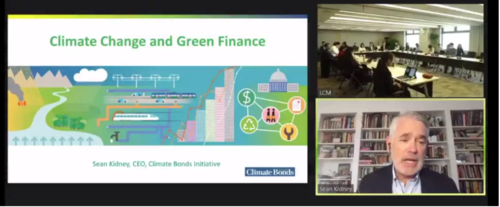 MR. Sean Kidney
Mr. Sean Kidney first introduced the green bond market around the world and believed China has already been an important player with a rapid growth. At present, CBI is also actively promoting the implementation of sustainable financial schemes in the European Union and establishing information disclosure policies. He pointed out that the green bond is to help governments, financial institutions and entities to pay attention to and identify the risks posed by climate change. At the same time, we should also help industries to achieve green transformation, and promote the realization of the Paris Agreement.
Although trade frictions are inevitable, we can establish a "Green Window" to promote cooperation between major economies in green finance and encourage the development of green investment.
David Carlin | Climate risks will be transformed into potential financial risks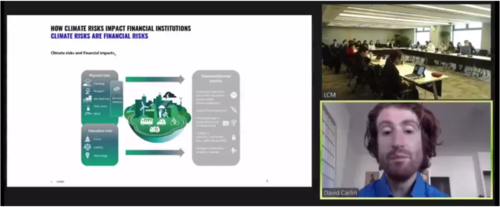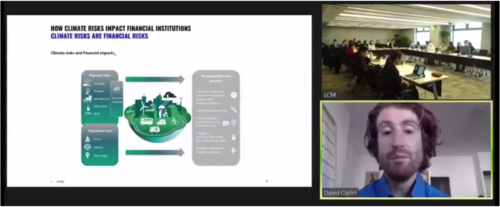 MR. David Carlin
Mr. David Carlin shared the framework of climate-related financial information disclosure (TCFD) and the progress of the TCFD at the forum. He pointed out that climate risks will trigger physical risks and transformation risks, and these risks will transform into potential financial risks. More financial institutions are aware that the risks posed by climate change need to be well measured, evaluated and managed. The TCFD was established to help financial institutions cope with climate risks in terms of evaluation and pricing. In the first phase of the project, UNEP FI cooperated with partners to develop a method of quantitative climate risk assessment; in the second phase, thirty-nine banks around the world were invited to participate in the piloting program. Tool manuals and practice cases were also introduced to a wider range of financial institutions for reference.
Wang Weikang | Technologies should be used to reduce emission and increase the proportion of new clean energy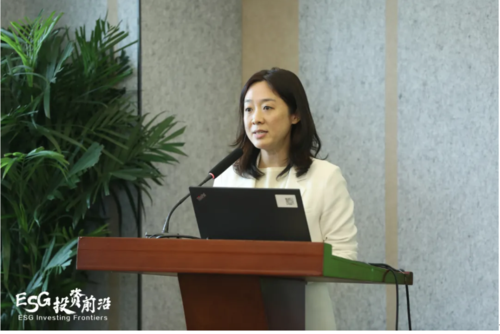 MS. Wang Weikang
Ms. Wang Weikang shared methods used by banks and financial institutions to help set carbon neutral targets. She introduced that
banks and financial institutions can use SDA, Scientific Carbon Target Initiative (SBTI) Portfolio, and Temperature Control Rating Method to set carbon neutrality targets
, including technologies to reduce carbon emissions and increase the proportion of clean energy and promote joint value chain. She also introduced the SBTI initiated by WWF, UNGC, WRI and CDP, and encouraged more Chinese companies, banks and financial institutions to participate in setting the carbon emission targets and disclosure policies.
Sun Tianyin | The physical and transformational risks could eventually become potential financial risks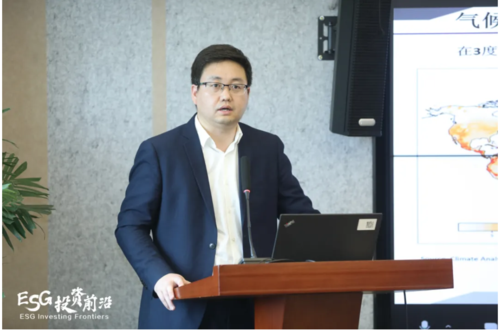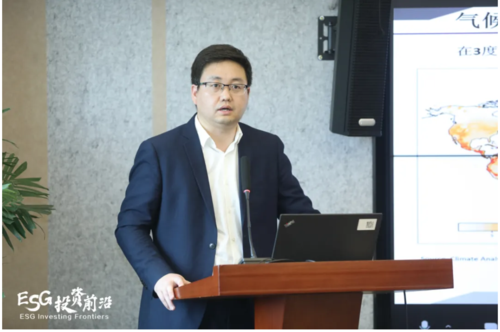 MR. Sun Tianyin
Mr. Sun Tianyin introduced the definition and classification of climate risk from the potential impact of climate change on macro-economy and labor productivity.
He also pointed out that The physical and transformational risks incorporated in climate risk will be transmitted to financial institutions through their impact on underlying assets. Thereby it could transform into financial risks
Based on this transmission mechanism, the Center for Green Finance Development Research of Tsinghua University has developed models for physical risk and transition risk respectively. Dr Sun Tianyin briefly introduced the application of two models in financial supervision, credit and insurance.
Zhang Rui | A-share listed companies climate- related information disclosure is still in its infancy

MR. Zhang Rui
During the forum, Mr. Zhang Rui shared his insight into information disclosure of A-share listed companies on climate change from the perspective of secondary market. He pointed out that only about 20% of the companies disclosed limited information and only 5% disclosed carbon emissions data. Most of the listed companies merely disclose the carbon emission management information qualitatively.
It is found that the climate-related information disclosure of A-share listed companies has a positive correlation with the size of listed companies and the overall ESG rating.
He recommended that the relevant regulatory authorities, listed companies and financial institutions should jointly promote climate-related information disclosure and management in the future.